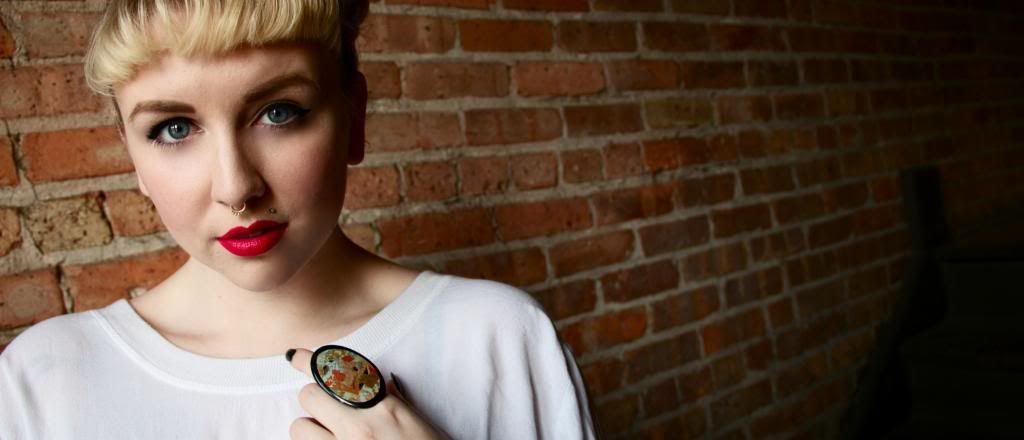 Lili K
. is a unique character in a strange place. The neo-soul jazz vocalist and songwriter has been writing original music since the tender age of ten, and is finally starting to see her talent noticed on a large scale. She had attended South By Southwest (SXSW) before, but this was her first year attending as an official artist. She's also a serial abuser of the caps lock button, a down to earth person, and one of the most entertaining people that I follow on Twitter. Her latest album,
Metal Petals
, came out to much critical acclaim. The midwest singer has worked with well-known artists such as Chance The Rapper, BJ The Chicago Kid, and The Whoevers. I managed to catch up to her for a few minutes to discuss important things such as her SXSW experience, her experience as a professional shower singer, and her greatest musical inspirations. Listen to "Highlight The Moon" below, and find out more about her in the interview that follows.
You made big waves in Austin this year at SXSW, was this your first time going?
I actually went last year, but didn't perform at all. I went with my school as a part of their record label, and we put a show together. I really just went out and went to shows last year. It was different this time because I went to work.
So this year you were an official SXSW artist?
I was an official artist, so I got the wristband and everything. It was a really unique experience. I'll meet fans from all over the world, so it's pretty cool but still intimate.

How many venues did you play at?
I played at four or five venues. I know we did five shows.
What was your coolest experience with a fan at SXSW?
One of my biggest fans, from New Orleans came to one of my shows. I recognized him because we always interact on Twitter. I said his Twitter name and he freaked out. It was cool to see someone fan out over you, because I still feel like I'm just "me." The fact that I knew it totally made his trip was awesome. Gaining new fans is great too. A lot of our shows were hip-hop, and a lot of people would stare at us when we were setting up. Peter and I kept making jokes about us rapping, and we'd gain some new fans after the show.

What was your coolest SXSW experience as a fan?
I was excited to go to Robert Glasper and Erykah Badu's show. I saw Alan Stone perform as an opener. He is phenomenal. I've been a fan of him for a while and he's a great performer. It was a bummer that the show got shut down before Robert Glasper went on, because the overcrowding made it a fire hazard. I was really bummed because Robert Glasper is an artist I want to work with now more than anything, but watching Alan Stone was great within itself. Watching Mos Def and meeting him was cool as well. It was kind of crazy being in the same VIP area as him. We heard a lot of unreleased tracks that he and Mannie Fresh have saved up.

Did you still have time to go out and enjoy the nightlife yourself, or was it strictly business?
I had fun the entire time. I was definitely focused on work. I don't drink much, so after shows I was ready to just go to sleep. I was focused on being ready for shows, and being available to meet people, talk to them, and have a productive conversation each time

Is there anything you'll do differently next year after this year's experience?
I'm just excited to have more shows next year, which just comes with gaining a bigger buzz and being better known. I think I got a great response considering the level that I'm at. I performed at a good amount of shows and there was a solid turnout, but I'd love to perform more at bigger venues. I don't think there's anything in particular that I'd want to do differently, but I'd love to just keep growing and learning.
As an artist based in jazz, how does your style change when working with hip-hop artists?
I grew up with jazz. I don't think any of my music is strictly jazz. Jazz is definitely an influence, but I always have incorporated soul and hip-hop. I work with hip-hop artists often, and I don't want to just lose everything I do. A lot of artists will think that I'm "just a singer," but I like to bring my own flair to what I do. I don't do a lot of rap collaborations, but the ones that inspire me lead me to bring different things to the table. I incorporate scatting, and harmonies.
Who are some of your biggest musial influences?
Ella Fitzgerald is my favorite vocalist of all time. I don't think anyone else has mastered what she's done with her voice. She uses it as an instrument. Going into the whole neo-soul movement, which led to me shaping my voice, I drew a lot from Jill Scott and De'Angelo, India Arie, etc. I was also into hip-hop artists such as A Tribe Called Quest. I'd say that neo-soul is probably my biggest influence.

What song do you sing in the shower every morning?
I do have one song that I pretty much always sing in the shower. It's called "I've Grown Accustomed To Her Face," but I always sing "I've Grown Accustomed To His Face." It's a jazz standard, and it was also in My Fair Lady. It's one of the most beautiful songs ever. I learned it in high school when I was studying vocal jazz. I don't really like the movie version. It's too showy. On the other hand, the jazz version is phenomenal.
What song do you sing after a couple drinks?
I had a fake i.d. when I was 19, and had a little party phase. I feel like I always sing some R. Kelly "Bump and Grind." There's a video out there of me breaking that down somewhere.
I feel like as a woman named Lili, guys would probably buy you flowers quite often. Do you get bombarded with lilies every week?
I only got lilies from a dude once. It was my high school boyfriend. It was on my 18th birthday, and he showed up with a bouquet of lilies. You'd think it would be more right? I like lilies, I think they're beautiful flowers. I would not be opposed to getting more of them.
A manifesto is a declaration of intents and principles. What is your Artistic Manifesto?
I love to sing. I love music. It makes me happy. Being able to share something I love so much and see them draw joy from it is phenomenal. To hear someone tell me that a song I wrote brought them through a tough time is phenomenal. My Manifesto is really just to share the love I have for music is an amazing feeling.
_ _ _
Follow Lili on
Twitter
and 'like' her on
Facebook
. Find more of her music via
Soundcloud
.