So, it seems as though my
2013
trend list went over well with the audience. I am pleased. The NFL has indeed stepped in front of the NBA in popularity, as more sports fans seemed to be caught up in Manti Teo's catfish drama than those interested in the historic win streak the Miami Heat have put together as of late. ESPN, like its other 24-hour news counterparts, has found a way to stretch one story into epilogues of empty cable content. I mean, really, how many times can you headline a NFL rule change? My prediction for Chicago rappers was on the money, as well. Chief Keef has stepped to near "Trap Messiah" status, complete with his own fresh out of jail Youtube video. King Louie has been on a tear, dropping song after song, and the ladies of Chiraq have even stepped into the ring. Katie Got Bandz' track, "Pop Out", has been making waves and received its own dubstep remix. And I am very proud of my biggest prediction, Timberland boots. The wheat walkers are back with a vengeance and have been spotted in clubs, music videos, and Kanye West paparazzi pics.
Now, I, Deronadaumus (cough, cough), will focus on the season of sun and fun. I will predict the top five trends for this summer, 2013.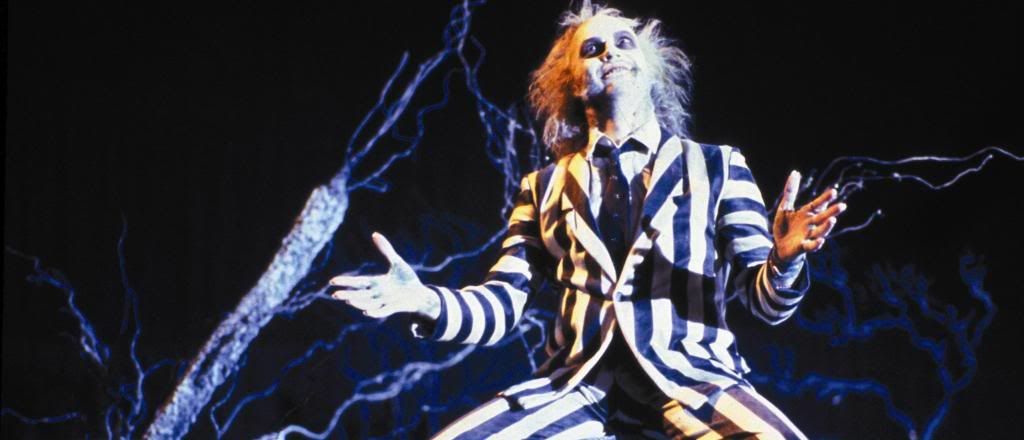 Beetlejuice Babes
A woman's outfit can change her mood. It can make her feel great or terrible. Women have to feel comfortable in their own skin and the clothes they're in. But lately, it seems women have been really comfortable in the Netherworld. From the beauty shop to the club, you can count on seeing chicks rocking the "beetlejuice" pattern, better known as Parisian stripes. I'm not sure why or how this trend came to be, but it has taken the hood and cul de sac by storm, being worn by every hoodrat and sorority sister from DC to LA. Expect to see the beetlejuice pattern on a beach or at a backyard cookout near you.
Texas
The creative industry sets up shop every year in Austin, Texas for the SXSW festival. With each year, the festival gains more and more popularity, and is definitely leaving a mark on the Texas state economy. The festival has spawned new businesses and brought advertising agencies, retail, and production houses to Austin. But the fun doesn't end there. Dallas and Houston have consistently made their way into the top 10 lists of best places to live. This summer, the Lonestar will be host to numerous music festivals, and with artists like A$AP Rocky, Kendrick Lamar, and Drake all pulling inspiration from the chopped'n'screwed sound, Texas is going to be huge in popular culture this summer. Look for some of the home grown Texans to make a splash in the industry this summer as well. Dallas native, Dorrough, has joined other Texas emcees like Yung Nation to form a group known as the "Prime Time Click". Look for them to keep you on your "tippy toes" all summer.
The Return of Skype
Let's be clear. When engaging in a new "relationship" with someone you meet on the internet, the first thing you should do is encourage a video chat. Which is why I will never understand how the show "Catfish" exists. But apparently, there are folks out there who really just go with the flow. With the show's popularity this spring, however, expect the masses to get hip to the game this summer as the air warms and love spreads. I have not logged into my Skype account for some time now. It seems so "2011". I will make use of it this summer though. I refuse to show up at a local bar/restaurant looking for Sally Looks Good, only to find Michelle Is Hideous.
Pyrex Vision
Kanye West has been fashion forward since his emergence some years back, and he has his progressive dressing crew to thank for it. His good friend, Taz Arnold, left an imprint on streetwear with his line Taz Is So Arnold (TISA), which became known for its rendition work with vintage luxury garments. Yeezy associate, Don C, has also made forward movements as of late with his vintage headwear work, taking deadstock hats and garnishing them with snakeskin leather and 24K gold clips. Now, Kanye's stylist, Virgil Abloh, is stepping into the streetwear realm with his line, Pyrex Vision. Inspired by the metaphor of "cooking dope" and going from nothing to something, Abloh has etched a marking in streetwear with a unique look that can be identified from a mile away. He takes Champion brand tees, hoodies, and shorts and dons them with the Pyrex branding. His line has been seen worn by the likes of Kevin Durant and Jay-Z. And due to the limited quantity, the Pyrex line has achieved luxury streetwear status. This summer, expect to see all the cool kids rocking Abloh's clothes.
The 1990's
I topped off my last trend list with the 1990's fashion staple, the Timberland work boot. Now, it seems as though the 1990's fashion trends are coming back in full force. Tye dye tee shirts are working their way back onto retail racks and folks are slowly becoming a bit more accepting of "oversized" or "baggy" clothes again. OG athletic brands like Champion and Starter are seeing a resurgence in popularity thanks to collaborations with new age tastemakers like Supreme. This summer, expect to take a flight back to the era of jean shorts. Though, I hope jean shorts do not make a return. Some things are better left in the past. I even plan on having a pool party, a la Tupac and the Digital Underground "I Get Around."
Words are by Deron Hogans Jr, a writer for digital research journal Electronic Media & Politics and a recent Graduate of Georgetown University's graduate school program.