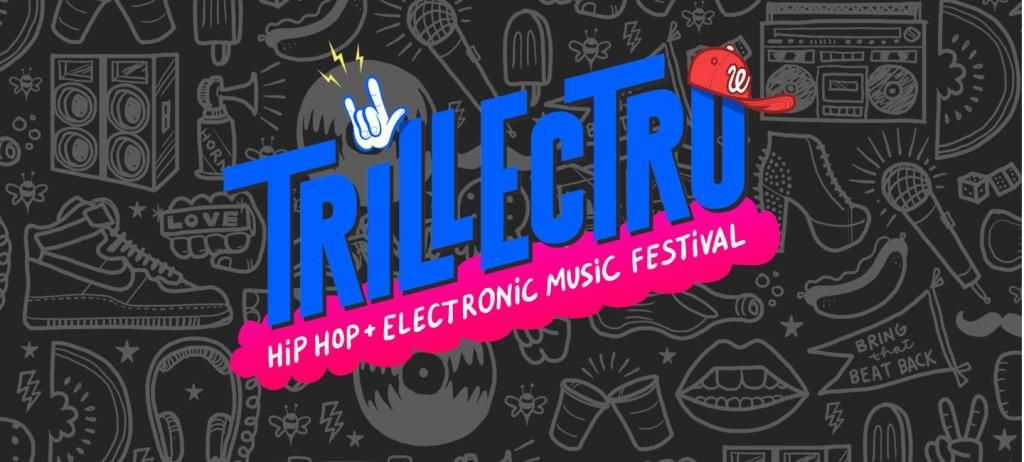 Before the Artistic Manifesto recap of Trillectro even begins, I feel it is important to note that these are not the thoughts of one person. I feel I'd be doing readers a disservice to describe such a massive event through the eyes and memories of one person. What is to follow are the words of myself and three friends of mine, Dani, Monisade, and Anita (who you will be seeing a lot more of on Artistic Manifesto in the near future). We hope that those who attended feel where we're coming from, and that we'll see everyone else at the Washington Fairgrounds next year. - Michell.
One week ago today, a spark was lit in the District. This spark came in the form of DCtoBC's music festival Trillectro, the hyperactive, overachieving son of trill hip-hop and intense electronic music. The festival was "put together by a group of kids who love music and want to share the good sounding stuff with the masses." That is part of what made it so groundbreaking. This was not an event put on by the typical faceless entity that funds and organizes events such as this. No, this was the brainchild of DCtoBC founder Modi, who began developing his clout in the music world as a blogger. This resulted in the creation of a product much "cooler" than what could be fabricated by any corporate machine, because those who orchestrated the event came up in this same area as those who attended. The name alone is so catchy, ingenious even, it's surprising it hasn't been done before. The creators recognized that there is a new breed of Hip-Hop consumer, or more accurately music-lovers. There is a new age Hip-Hop head who feels just as much at home mobbing at an A$AP concert as they do moshing to the warped bass heavy sounds of electronic DJs. They took the vibes of the two genres and mixed them together in perfect proportion, to deliver nothing short of nirvana. The line- up was dope, and the dual stage set up ensured that the party never stopped. Artists included heavy hitters such as Schoolboy Q, Flosstradamus, Casey Veggies, Body Language, Tabi Bonney and Oddissee, but everyone seemed to have their own personal favorite act. It wasn't just that all who performed represented their city well. They came and partied with us, and couldn't deny that our city was pretty damn cool.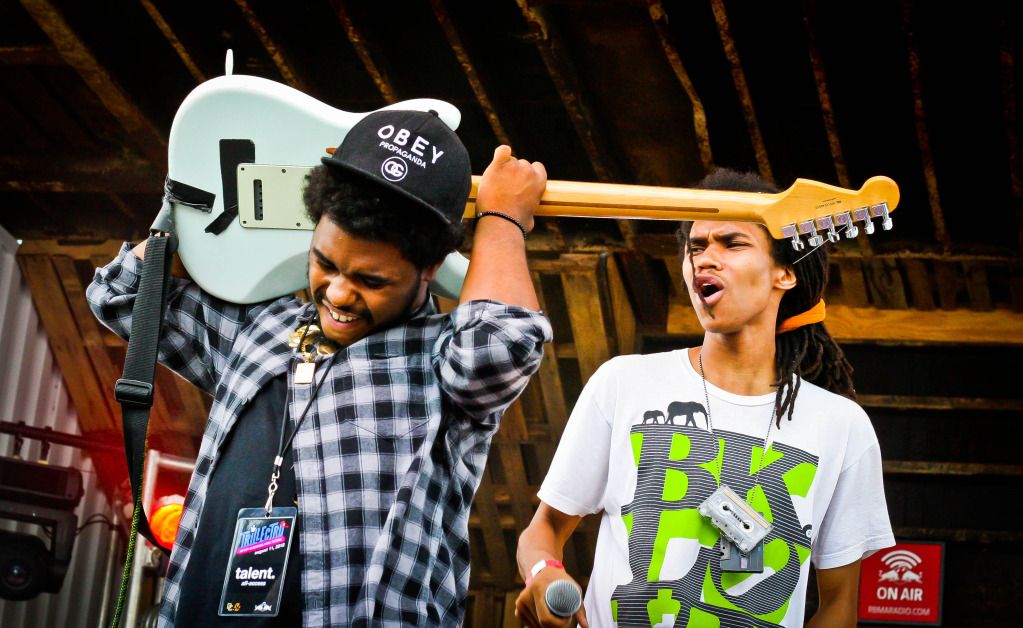 [Elijah Rawk of the Phony Ppl rocked his solo in unorthodox fashion, much to the shock of Elbee Thrie. Photo credit Magdeldin Hamid]
Through Trillectro, the
DIY
generation made its presence known in D.C. For many, walking through the gates was like discovering a Mecca of free spirited contemporaries, all of whom hailed from the same geographic area. People with a wide array of different ideas abounded, from music blogging to music production to artists. Everyone was truly excited about their respective projects, willing to give tips and help out total strangers who simply shared the same passion. Trillectro created an environment where like-minded people could bring out the best in each other, creating a wider network of support to further strengthen individual endeavors. Whether you were at the main stage or in the back rocking out at the red bull truck, you weren't missing out on any fun. The energy was incredibly positive, which was proven by the fact that there were no fights, arrests or hospitalizations. That must be a first at an event of this proportion. We even welcomed the rain with hands in the air. In the end, Trillectro was both a celebration of sound and a testament to the power of the youth. For D.C., this was a huge breath of fresh air away from the conventional and toward the avant-garde.
[Tabi Bonney takes a quick breather during his uptempo set. The fans? They love it. Photo credit Magdeldin Hamid]
The first thing you noticed after walking into the Half Street Fairgrounds venue on Saturday was how on-point everyone in attendance looked. What was even better was the fact that everyone's style was so unique, so customized to their personality and lifestyle. The clash of musical genres was immaculately reflected by the diverse culture resulting from such a varied audience. Trillectro exposed, and possibly created a scene that many of us didn't know existed on this coast anywhere else but New York. It was a medley of people with completely different backgrounds, coming together because of their love for music. If ever there was an exciting time for D.C.'s music scene, it is now. Trillectro's presence in D.C. has opened the floodgates for a massive wave of DIY culture to inundate our nation's capital, bringing with it aftershocks of unprecedented creativity and initiative.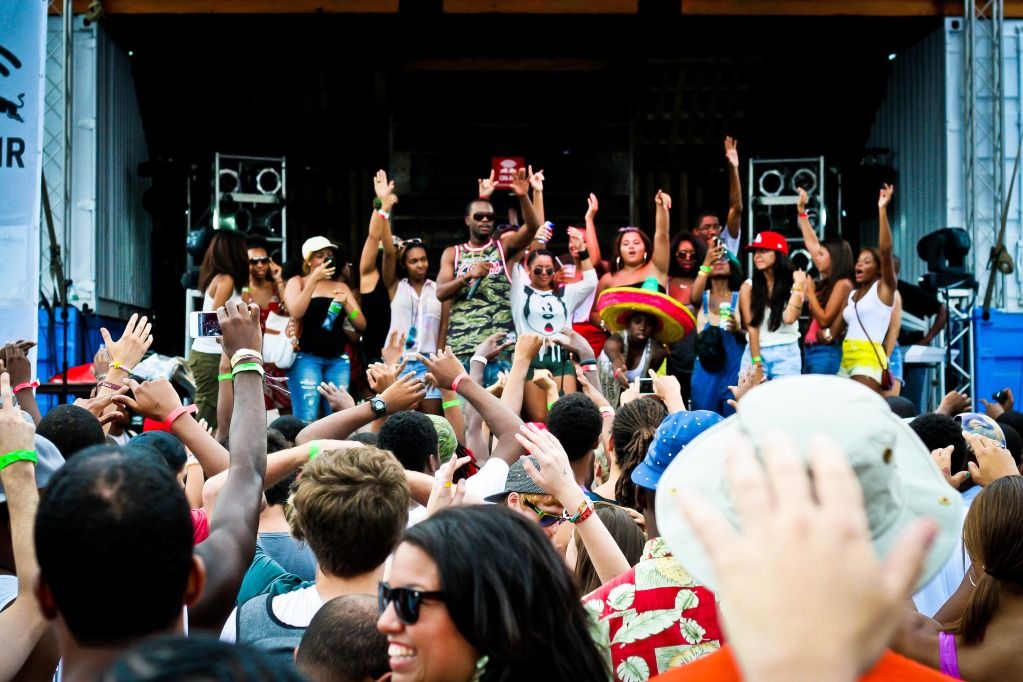 [Masses of people crowded the stage as soon as young Casey Veggies arrived. Photo credit Magdeldin Hamid]
When checking out the two stages, your body could not resist
moving
to the infectious sounds of electro and hip-hop that were being pumped through the atmosphere. In these blissful moments, it became clear that music truly does play a role in strengthening a society – in this case, a diverse society of young, determined individuals with big dreams. There is no other point in D.C.'s history where ravers, bass-heads, and hip-hop diehards consciously and willingly have congregated in the same space to celebrate each others' culture. For such a mash up to be successful, there is a mutual respect that must be maintained by all parties, and that was accomplished with ease throughout the entire event. One can't help but feel that this year the energy of Trillectro was at its purest. I'm apprehensive and excited for growth, but the hipster in me would love to keep this our little secret. The rest of me knows that the secret is already out. Needless to say, I'm sure I'm not the only one excited for next year's event. I'd love to see artists like Dom Kennedy and the genre synthesizing Chicago band Kids These Days in the mix. After this hole in one, I know they won't miss. From the promotion to the execution, the DCtoBC team did an excellent job. Trillectro, in short, was everything I didn't even know I wanted it to be.